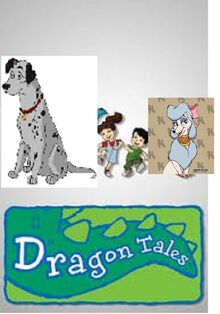 190Movies' TV spoof of Dragon Tales (1999-2005). It will appear on YouTube in the near future to celebrate the 20th Anniversary next year.
Max - Himself
Emmy - Herself
Enrique - Tim Templeton (The Boss Baby)
Ord - Pongo (101 Dalmatians)
Cassie - Georgette (Oliver and Company)
Zak - Copper (The Fox and the Hound)
Wheezie - Dixie (The Fox and the Hound)
Quetzal - Jock (Lady and the Tramp)
Dr Boo Boo Gone - Granny Rose (The Fox and the Hound 2)
Arlo - Rover Dangerfield
Gallery:
Edit
Community content is available under
CC-BY-SA
unless otherwise noted.